Halloween Spectacular - November 3
Spooks and spirits camp it up during a musical visit to Dracula's House and a tour of Frankenstein's castle, as guest conductor H.K. Gruber treats us to a Transylvanian Symphony.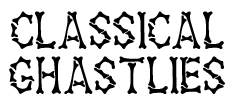 by Rex Levang
ne of the oldest of all classical music jokes goes like this:
It seems a Famous Musician gave a performance in a small town. After the concert, he had to go to the obligatory reception, and a lady came up to him, whose enthusiasm for music was far greater than her knowledge of it.
"Oh, Maestro!" she gushed. "What a wonderful performance!"
"You are far too kind."
"No, no, not at all! It was magnificent. I was simply spellbound! And especially the piece by Bach - so interesting, so different! Now please tell me. Mr. Bach - is he still composing?"
"Alas, madam," responded the Musician, "I'm afraid that poor Bach is now - decomposing."
If you thought that was in appalling taste, you might want to turn back now. If, on the other hand. . . . more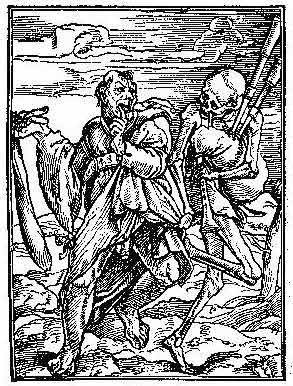 Luring the fool with bagpipes in Hans Holbein's
"Dance of Death"
A Hitchcock Musical Mystery
Listen to haunting music excerpts from the films of Alfred Hitchcock
Violin: the Devil's Instrument?
The violin has been associated with Satan in Western culture for generations (think of the rock song "The Devil went down to Georgia"), but the "devil as fiddler" motif has evolved in stages over the past two millennia - religions, folk tales, and literature all merge to produce a central myth.
Dominick Argento: Voyage of Edgar Allan Poe
Synopsis of the 1976 opera with drawings of costumed characters.