Maestro in the Midwest
A Look at Antonín Dvorák and His Years in America
By Rex Levang, September 1999
The Dvorak Timeline - Following in Dvorák's Footsteps
ANTONÍN DVORÁK STARTED LIFE as the son of a peasant in the provinces of the Austro-Hungarian Empire, and ended it as one of the most famous musicians in the world, whose pieces were eagerly received by audiences in the capitals of Europe and America.
True, the popularity of some of those works may have waned a bit over the years; perhaps the Te Deum and the Moravian Duets don't loom as large as they once did. On the other hand, no cellist will neglect Dvorák's b-minor concerto; and there can't be too many classical record collections without a "New World" Symphony, or a selection of his Slavonic Dances.
And there can't be too many American music lovers, especially in the Midwest, who haven't thought about retracing some of the steps of the remarkable journey that Dvorák took to the United States in the 1890s.
While in America, he not only presided over a New York conservatory, and gave a new impetus to American composers, but also came to live in a tiny town in Iowa, visited the young cities of Minneapolis and St. Paul, and wrote some of his most popular works. Here, to celebrate the composer's birthday on September 8, is a scrapbook of Dvorakiana: a look at some of the Midwest's Dvorák sites; a timeline of Dvorák's life, and samples of his music.
---
A Dvorák Timeline
---

Antonín Dvorák
(photo courtesy of the Bily Clock Exhibit; click on any image to enlarge)
1841 Dvorák is born in a small village in the present-day Czech Republic. He receives musical training from the local schoolmaster, and later, in larger towns, and finally, in Prague, where he struggles to earn money by composing, teaching, and playing viola in orchestras.
---
1874 Dvorák applies for an Austrian government grant for artists. One of the judges is Johannes Brahms; on his recommendation, Brahms's publisher issues Dvorák's Slavonic Dances, with resounding success.
In the next two decades, Dvorak will produce symphonies, choral works, concertos With these works, Dvorak consolidates his international reputation as one of the leading composers on the scene. It is a time of rising pride among the Slav peoples, and like the Slavonic Dances, many of Dvorák's works reflect the spirit of Slavic folk music, and Dvorák's pride in his Czech heritage.
---
1891 A wealthy New York woman, Jeannette Thurber, invites Dvorák to come to New York to head her new conservatory. After some hesitation, Dvorák accepts.
---
1892 While in America, Dvorák takes an interest in the music of African-Americans and American Indians. He urges American composers to compose in the spirit of the music they hear around them: "I am now satisfied that the future music of this country must be founded upon what are called the negro melodies. This must be the real foundation of any serious and original school of composition to be developed in the United States." None of Dvorák's students becomes a notable composer, though they go on to teach and influence a generation of American composers: Gershwin, Copland, Ellington.
---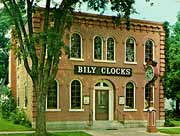 Dvorák's home in Spillville, Iowa, now a clock museum (photo courtesy of the Bily Clock Exhibit)
1893 Dvorák spends the summer in Spillville, Iowa, a small Czech settlement in northeastern Iowa. Within five days of his arrival, he composes his "American" String Quartet.
Besides composing and enjoying the company of his fellow Czechs, he also attends church frequently, and plays organ during the mass.
Listen - The organ at St. Wenceslaus Church in Spillville
(RealAudio 3.0: For audio help, see How to Listen.)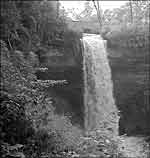 Minnehaha Falls (photo by Rex Levang)

In the Midwest, Dvorák visits Czech-American communities in Chicago, Omaha, and St. Paul, and makes an excursion to Minnehaha Falls in Minneapolis. (Dvorák had contemplated basing a piece on Longfellow's Song of Hiawatha.) While at the falls, Dvorák composes one of the themes for his Violin Sonatina, notating the melody on his shirt cuff.
1893 World premiere of Dvorák's Symphony No. 9, subtitled "From the New World" in Carnegie Hall. During his years in America, Dvorák will write some of his most popular pieces: not only the "New World" Symphony, but the Cello Concerto, the "American" String Quartet, and a beloved miniature, the Humoresque in G-Flat. Whether Dvorák himself adopted an "American" style in these works is one is one of the great debates of Dvorák scholarship.
---
1895 Dvorák suffers from homesickness and has business disagreements with Mrs. Thurber He decides to return to Europe permanently. In the last part of his career he devotes himself mainly to opera, producing his most popular opera, Rusalka, in 1901.
1904 Dvorák's health now begins to decline. Always a train enthusiast, he goes one morning to look at the locomotives at the Prague railway station and comes down with a chill - the beginning of his final illness. Dvorák dies in May of 1904 and is buried in Prague.
---
Following in Dvorák's Footsteps
---
Minnehaha Park and Falls
East Minnehaha Parkway & Hiawatha Avenue
Minneapolis, MN
612-370-4939





When Dvorák visited Saint Paul, the local Czech community greeted him in this building on the corner of Michigan and West Seventh Street, not far from downtown Saint Paul. It has remained in use as a Czech community center to this day.

Czech and Slovak Sokol Minnesota
383 Michigan Street
St. Paul, MN 55102
651-290-0542

Recordings are available from the Public Radio MusicSource