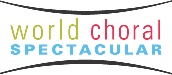 State of the Arts: Minnesota Choral Music
by Marianne Combs
American Public Media
August 2, 2002
Thousands of people from over 50 countries are descending on the Twin Cities. Don't Panic! It's not a hostile invasion, it's the World Choral Symposium. For the first time this international event is coming to the United States. 22 choirs from Europe, Asia, Africa and the Americas are here to perform their finest works. American Public Media's Marianne Combs has this report on why Minnesota is the logical choice for such a high profile choral event:

Director of the Twin Cities Gay Men's Chorus Dr. Stan Hill says Minnesota is the choral center of the universe. Hill says what makes Minnesota unique is not only the quality of its choirs, but the audiences. He says Minnesotans actually value choral music as an art form.
"In other cities choral music is somewhere down below sitar playing or something like that," said Hill. "You've got your ballet, opera, symphonies, wind ensembles and way at the bottom is choral music. That's not true in the Midwest where you have such fine choral singing and for the average person, going to hear a choral concert is something that is culturally acceptable here.
Singing was always part of pioneer life in the Midwest, either in church on Sunday or in the evening after a full day's work on the family farm. But when asked if there's a person, moment or place responsible for Minnesota's extraordinary choral heritage, many people point to St. Olaf college at the turn of the 20th century and Norwegian immigrant F. Melius Christianson. Christianson was hired to teach music and direct the St. Olaf band in 1903. He also served as organist for St. John's Lutheran church in Northfield. But what he became famous for was his work with the church choir, improving it's performances and expanding its repertoire. Eventually it became the St. Olaf Lutheran Choir. Current St. Olaf choir director Anton Armstrong says Christianson created a legacy of excellence that still motivates choir directors today.
"His desire to recreate and produce a style of singing that had it's origins in Western Europe, and then taking a program of unaccompanied sacred choral music and taking it to such an artistic level that it could be presented in the leading concert centers of the United States, established it as a prototype in many ways for choral singing throughout the nation," said Armstrong.
Christianson established the tradition of an annual Christmas "song service" in 1912 and took the choir on tour to Norway in 1913, where many of the choir members had relatives. Christianson's enthusiasm for choral music lived on even in his own family. His son Olaf took his father's place as choir director in 1943 after already establishing his career at Oberlin College in Ohio. His other son Paul directed the Concordia Choir at Concordia College in Moorhead for 49 years. For many choral directors, these three set a national standard for exceptional choral leadership. Armstrong says it's not just the strong and devoted leadership that has made Minnesota choirs so great. Nor is it the audiences who value choral works as part of their culture. Armstrong says the singers have an equally important role to play. He says Minnesotans are singing for the right reasons.
"This is not 'come and see how good I am,' but this is about giving back to others and I think that's been a key as it's continued to thrive here - it's how do we reach out, how does our art not only reflect the past but speaks to today and provides hope and inspiration for tomorrow," said Armstrong.
Minnesota has an international reputation for its quality choral music. But some music directors worry about the future. Twin Cities Gay Men's Chorus Director Dr. Stan Hill says inspiring tomorrow's audiences will be a challenge.
"I happen to think that choral music - just standing on the risers like penguins - is relatively boring," said Hill. So I try to combine a visual component so that you have not just something to listen to, you have something to see. Because face it, in modern society, we are inundated with media, in theaters we're bombasted with sights and sounds and everything else and the young people are getting used to that."
Stephanie Trump ought to know about young people. Trump is one of two choral directors at Armstrong High School in Plymouth. She's proud of her school's reputation for its fine music. She says many students take choir freshman year because they think it's an "easy A," but end up staying through graduation because they get so much out of it. Trump says choral singing builds self-esteem and teaches students numerous valuable life lessons:
"It's like they set their things at the door when they come in for choir rehearsal every day or when they walk into a performance and they leave what is them, the image of them in the high school, at the door," said Trump. "And they walk in and take a seat with people that they sometimes don't see at any other point in the day, or people that they don't even like, and walls get broken down and things happen and they work together."
Trump says she sees great enthusiasm for choral music in her high school students, but she gives much of the credit to elementary and middle school music teachers for instilling an early love of singing. Trump says she hopes Minnesota schools continue to get the support they need to deliver quality music programs.
Not only is Minnesota rich with church and school choirs, there are also private professional choirs in Minnesota with international reputations. It's widely acknowledged one of the reasons why the World Choral Symposium is in the Twin Cities is due to the work of Phillip Brunelle, director of VocalEssence. And the Dale Warland singers are celebrating their 30th anniversary this year. Director Dale Warland says professional choirs serve to inspire and invigorate the choral community. But Warland says while audiences may value their performances, professional choir funding lags behind that of orchestras and operas. As a result, his singers must go to great lengths in order to perform.
"We still for the most part have to come together and do our best work after we've had another full day of something else. So even though a given soprano is certainly professional, is paid - that soprano has to come after teaching all day, and it's very difficult to do your very best at ten o'clock at night. So if we could get to the point where we had enough financial support to rehearse and perform at the prime of our day rather than at the end of it, this would raise the level," said Warland.
Warland cites much smaller countries, such as South Korea, where numerous full time professional choirs are supported at the same level of the orchestras.
The Dale Warland singers regularly commission new works from composers both locally and nation-wide and Warland thinks one of Minnesota's strengths is the relationship between choirs and composers. But Warland says choirs should be commissioning far more works in order to keep choral music exciting for audiences. Still Warland says the special sound created by a group of voices in song is always exciting.
"There's no doubt it's the most important thing in the world - if it's good. If it's bad it's the worst thing in the world it's so painful but if it's good there's nothing like - there's a magic when everything comes together. And it doesn't happen every minute by any means but you just keep hoping for it because you know when you've hit it - there's nothing like it," said Warland.

World Choral Spectaular Homepage